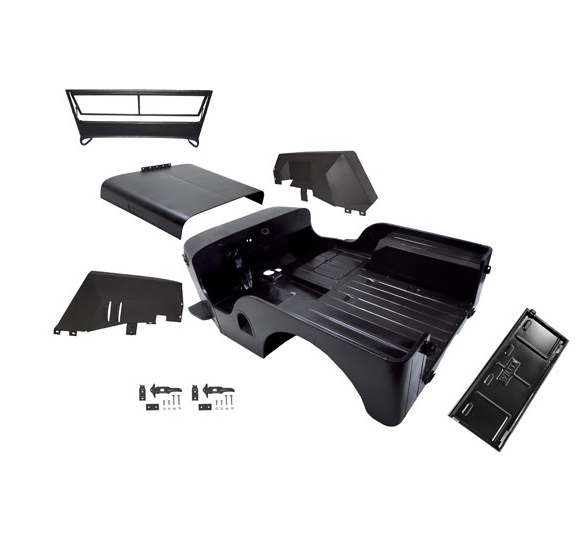 Raw tub v Repli-Tub
Looking for a replacement Jeep body tub for your CJ or Military Jeep? The following paragraphs contain the most important information you need to know.
If these pictures of replacement Jeep body tubs look the same as you have seen on other sites, there's a reason...They are the same! Every replacement body you can find in the world is manufactured in a single factory in the Philippines. The problem, of course, is that they are made completely wrong and will NOT mount to your chassis. Will anyone else tell you that fact? No, of course not. And why won't they tell you that... because they do not have any other option to offer you. At Willys-Overland I can and WILL tell you the truth, because I do have a better option for sale, AND the correct product for your Jeep restoration. Our Repli-Tub body, modified and re-engineered to factory specs in our Toledo restoration facility, is guaranteed to bolt directly to your chassis in under an hour. I'm Jay, the owner of Willys-Overland Motors, and will be your personal Restoration Counselor. I'm available at any time to answer your questions, direct you to suppliers who offer any parts we don't offer, and, of course, to take your order for the correct Jeep Repli-Tub body kit built to YOUR specifications.
There are so many questions you could and should ask when researching for a replacement body kit for your restoration project, but really the only one that matters is:
"Is your body guaranteed to fit with no cutting, welding or modifications?"
What To Look For When Researching A Replacement Jeep Body
The answer to this basic and important question can be summed up in two points...You want a Jeep body tub that looks good and fits correctly. Sounds simple enough, but not so easy to find. Sadly, there isn't a single factory on Earth that is making a good quality body to original specifications. For this reason, 22 years ago, we at Willys bought good straight frames and solid original bodies for 13 models of CJ's and Military Jeeps, and built fixtures, jigs, and tooling in order to modify and re-engineer the bodies that were being manufactured, all to meet the customers demand for a better body. Hence, the "Repli-Tub" Jeep replacement body was born. A body that is guaranteed to bolt to your existing chassis in under and hour, and look as close to the Original body as possible.
You also want to find a company that does more than just make a phone call, and have a raw Philippine body drop shipped to you. You want a supplier that not only buys container loads of bodies every month, but also fixes and re-engineers them to each customers specifications. When you call Willys-Overland, you will speak with Jay, the owner of the company, and your personal Restoration Counselor, who will walk you through the entire process from identifying your Jeep (if necessary,) to describing our products. When you are ready to purchase your Jeep body restoration kit, he will work with you to determine the various options and specifications of your particular Jeep in order to build the exact replacement body you are expecting. Upon completion, Jay will either prepare yourJeep body for you to pick up, or crate it in preparation for shipping. He can even help you find the best location to ship your new tub body to you. And of course, he will be standing by and ready to help you with any installation help or instructions. From start to finish, you are never more than a phone call away from whatever help you may need to finish restoring your Jeep with our guaranteed "Repli-Tub" body kit.
Call me today at 419-531-0707 to get your Jeep back in fighting shape.
What make Willys-Overland Motors Different?
Faster from body delivery to driving out the driveway
Fewer skinned knuckles
No modification headaches
No disappointing surprises
No frustration rants
We at Willys manufacture the Repli-Tub (TM), so that it is guaranteed to bolt directly and easily to your original or aftermarket Jeep chassis.
The mounting holes will be correctly located.
The holes in the floor to connect your fuel lines will be correctly located.
Tail light and back up light wiring holes will be correctly located.
Floor pedal holes will be correctly located.
You will never hear these Repli-Tub "guarantee" statements made by anyone, other than Willys-Overland Motors.
View our video on why our Willys Jeep Body Repli-Tub is guaranteed to bolt quickly and easily to your original or aftermarket chassis.